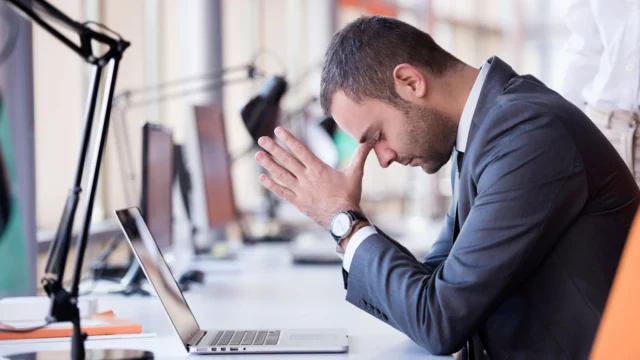 As a Fortune 100 leadership coach, most of my clients come to me when they're feeling invisible to corporate leaders and executives. Getting overlooked and passed over for promotions, growth opportunities and plum assignments.
Recently, I had a client who's a leader in the technology industry.  He had just missed out again on a promotion that went to his peer. A peer who had achieved similar results and impact, yet clearly had more respect and influence with company executives. After spending 7 years inside the company (4 years in the same job role), my client came to me feeling depleted, under-valued, and invisible to his manager and Sr. leaders.
By focusing on strengthening his executive presence (with the steps below), in just 3 months he received a pay increase, as well as the title, the scope and the turf he really wanted.
Stop talking. Or more precisely, stop rambling. My favorite manager once said to me, "If you're explaining, you're selling."  When you want to align and connect with executives, speak their language. That means, communicating crisp, concise quantifiable results. All. The. Time. Focus on dollars, numbers and percentages. What have you and your team already accomplished? What's the trend line look like? What will results look like when you reach the goal? By communicating in terms of quantifiable results, you're demonstrating that you're measuring the two most important things to executives: your results and impact.
Are you playing offense or defense? What's standing in the way of reaching your goals? When you talk about the single biggest challenge you're solving today, and the one BIG challenge you'll be solving next month you're role modeling problem solving, resiliency, and forward thinking.
Arrogant, brash behavior breeds distrust. Six seconds into your big presentation, corporate leaders already know one thing, "Whether or not you believe in yourself." And you must believe in yourself before company leaders will believe in you. Get quiet before your presentation. Really quiet. Tap into that soft voice and calm confidence that's down deep inside. That's the self confidence that will give you credibility. That's the self confidence that executives need to see you as a leader.
As a Leadership Coach inside a Fortune 100 tech company for 10 years, I know tough environments. And I know how to get noticed inside tough environments. I've helped over1,000 leaders (and future leaders) stretch, grow, and evolve in their career.  If you're interested, join me inside my upcoming leadership masterclass "How to spot the WEAKEST part of your Executive Presence… and what to do about it right now" at YourLeadershipLab.com/leadership-masterclass