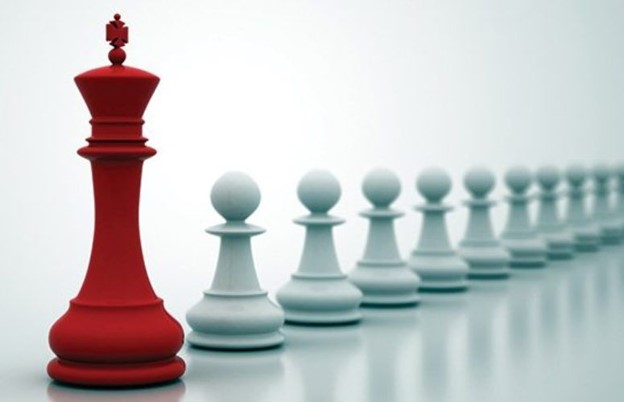 Being an influencer inside the Corporate world is extremely difficult. The musical chairs of executives is never ending. Churn, change, chaos. New executives wanting to put their thumb print all over your work, and forever executives trying to point out faults and failures to diminish your credulity.
As a Fortune 100 Leadership Coach for the past 10 years, I've seen a pattern with my clients who have successfully been able to gain traction, influence, and control inside their Corporate environment.
Since Corporate executives think differently than the rest of us, it's important to keep in mind that their brains are full of big, complex issues. They process information differently. They consider risks and opportunities differently. Think of a rubik's cube on steroids.
So if you want to elevate your credibility and influence with your Corporate executives, then you'll need to speak to them on their terms.
Every day, you need to prove your value to the company based on your results. The ONLY thing executives care about is results. This is reinforced by the fact that THEIR leaders (i.e. executives, board of directors, stockholders, venture capitalists, etc.) only care about RESULTS.Measure every initiative, every program like your Corporate life depends on it.  Which it does.  Develop a scorecard highlighting each of your big initiatives with current and projected results. These are quantifiable results in terms of dollars, numbers, and percentages. Add trend lines for context showing when you'll hit targeted results.  Talk about current and future results. Every presentation. Every conversation.
Make them answer "yes." In the back of the mind of every Corporate leader, they're asking, Do you believe in yourself?  And if they sense you don't, they won't either. I'm not talking about brassy, self promoting, I'm the best thing because I got 62 likes on my last TikTok video arrogance. I'm talking about the calm, quiet, self assured confidence that's down deep inside and comes through even when you're not talking.I bet 99% of my Fortune 100 clients come to me because their self confidence has dropped. I help them identify those moments, and then do the emotional work that needs to be done. Setback moments = professional and emotional growth. Identify and get the lesson(s) in the setback. Release the emotional baggage. And then get on with transforming into the leader you're meant to be.
Master the teaser. I'm not saying that all executives have the attention span of a gnat. On the contrary, most are extremely deep thinkers and think with purpose.  BUT, if you even just slightly veer off topic or ramble, their brain hits a switch and they've mentally checked out.One technique I give to my clients is mastering "the teaser."  Instead of starting out your next big presentation by thanking everybody in the room, saying some pleasantries, and wasting the first 60-seconds of your showtime, say something like "Good morning. In the next 5-minutes I'm going to share the 3 biggest questions our customers are asking about Product X, and the #1 feature they want in our next release."  Now you've just bought 5 more minutes of their time.
Demonstrate your ability (and passion) for solving high-level problems. Corporate leaders are grading you on three things: your results, self confidence, and the level of problems you're able to solve.One of the worst things you can do in your update to Company leaders is give a false bravado that everything is just dandy. Nobody believes that so you've just lost credibility.  Instead, use your updates to focus on results, and then go deep into high-level problems that you and your team are working to solve. Let them see how think about problems. How you assess the risk level. How you identify which problems get your full attention. The level of problems you're able to solve is directly proportional to the level of growth opportunities you'll be given.
Prepare for friction. Corporate environments are extremely tough right now. Major disruptions in the ecosystem. Competitors eating away at profits. Great talent leaving in droves. It's kind of like Squid Game but without the big cash prize at the end. So before you step into your next conversation with a Corporate leader, prepare yourself. More than likely, darts will be thrown.To prepare, write down 5 of the toughest questions you'll likely be asked. Then, write down what your response will be in a concise 1-2 sentences. Use facts, data, results, customer quotes, and any other information you have to back-up your positioning. It's much, much easier to do this before every meeting with Corporate executives, rather than thinking, "Gee, I wonder what they'll ask me?" and then flying by the seat of your pants. This exercise will help you be polished, confident, and confirm that you're in control of your turf.
Sherri Thomas is President of Your Leadership Lab, a Fortune 100 leadership coach, and an award-winning author.  She helps leaders and high performers in the Corporate world elevate their influence, credibility, and growth opportunities. Learn how to join Sherri's upcoming VIP leadership masterclasses.